Master Model 1/350 OTO-Melara 76mm/62 (2 Barrels)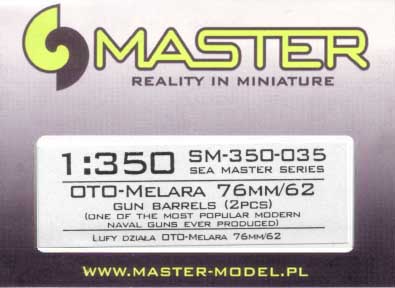 by Sean Hert
The 76mm/62 OTO-Melara is the most common and popular modern naval gun produced. Over 1,000 have been produced under license, and the gun serves in over 50 navies in a variety of capacities. The gun is dual-purpose, able to engage surface and air targets, and is alleged to have a missile intercept capability. The gun has an actual bore of 76.2mm, making it in reality a 3" gun.

INSTRUCTIONS
CONCLUSIONS
There are a variety of kits in existence that will be able to use these barrels, and they will be an improvement to the kit supplied barrel in all of them.
This pack of barrels from Master Model #SM-350-35, are priced at $10.95 and are available now.
Master Products are distributed in the US by Georgetown Hobbies and are also available at the following sponsors.
---

© ModelWarships.com