Master Model 1/350 USS San Francisco CA-38 1942 Armament Set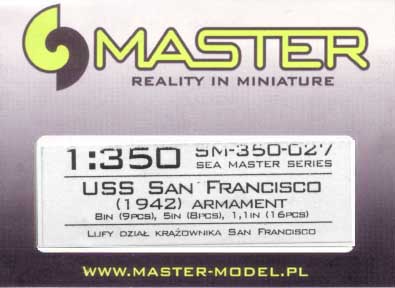 by Sean Hert
This armament upgrade set for the Trumpeter 1/350 USS San Francisco 1942 consists of 3 different barrel types, 2 of which have been reviewed seperately. The 8"/55 and the 1.1" AAA barrels have been covered, but the 5"/25 gun barrels for the secondary DP battery are new to this set. This set includes 9 8"/55, 8 of the 5" and 16 1.1" barrels- enough for the 3 main turrets, the 8 open mount 5"ers and the 4 quad 1.1" AA battery- 33 barrels in all.


8"/55 Barrels


5"/25 Barrels


1.1"/75 Barrels

INSTRUCTIONS
CONCLUSIONS
The 33 barrels in this upgrade are all machined to Master's high exacting standard, and are certainly worth the price.
This pack of barrels from Master Model #SM-350-27, are priced at $27.95 and are available now.
Master Products are distributed in the US by Georgetown Hobbies and are also available at the following sponsors.
---

© ModelWarships.com