Master Model 1/350 USN 1.1"/75 (28 mm) Mark 1 and Mark 2 (20 pcs)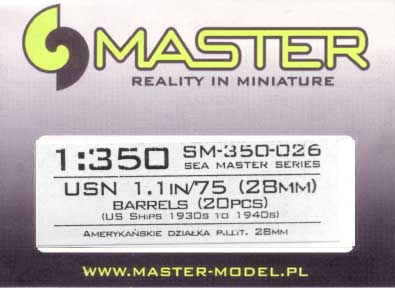 by Sean Hert
The 1.1" gun, AKA the "Chicago Piano", was designed in the 1930's as a AAA gun to fill a niche between a .50" machine gun and a larger, DP gun. While issued throughout the navy, wartime experience quickly found this water-cooled gun unreliable, and ineffective, especially when compared to the 40mm Bofors, which replaced it.

The 20 barrels in this set are enough to do 5 quad mounts; a few destroyers or cruisers, or a battleship.

INSTRUCTIONS
CONCLUSIONS
The 20 barrels in the set are so very small, they almost dissappear when attached- but when they are, make an amazing difference in the appearance of the 1.1" mounts.
This pack of barrels from Master Model #SM-350-26, are priced at $16.95 and are available now.
Master Products are distributed in the US by Georgetown Hobbies and are also available at the following sponsors.
---

© ModelWarships.com