Master Model 1/350 USN 5"/38 (12.7cm) Mark 12 Barrels without blastbags (20 pcs)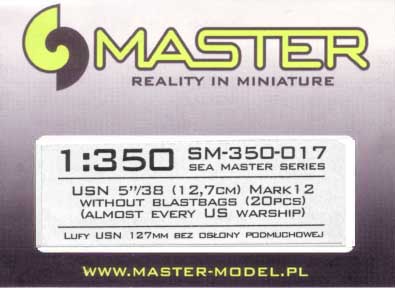 by Sean Hert
The 5"/38 gun was the ubiquitous dual-purpose mount throughout the United States navy in World War Two. Used well into the 1980's, this gun was the finest DP gun of the war, and one of the best of all time. This weapon was made even more effective when coupled the proximity-fused round when used in an AA capacity. The 5"/38 was also used by the Royal Navy, as well as some in other foreign service, and was still being issued as late as the 1960's.

These brass barrels from Master come packaged 20 to a set, and are intended for installations in mounts and gunhouses that do not feature blast bags.

INSTRUCTIONS
CONCLUSIONS
Master provides enough barrels to upgrade a battleship, or a number of destroyers and cruisers. These barrels have a nice taper, look good, and are recommended.
This pack of barrels from Master Model #SM-350-17, are priced at $21.95 and are available now.
Master Products are distributed in the US by Georgetown Hobbies and are also available at the following sponsors.
---

© ModelWarships.com