Master Model 1/350 USN 16"/45 (40.6cm) Mark 6 without blastbags (9 pcs) Barrels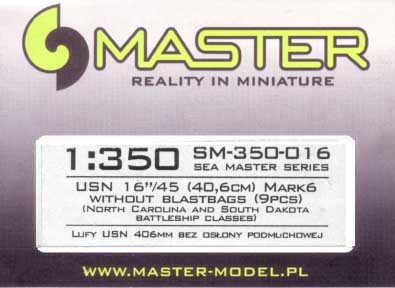 by Sean Hert
The 16"/45 Mk 6 gun was used on 2 classes of US battleships during World War 2; the North Carolina and South Dakoka classes. Each ship of each class had 9 of these guns, situated in 3 triple turret; two forward and one aft.

These machined aluminum barrels from Master come packaged 9 to a set, and are intended for installations in turrets that do not feature blast bags.

INSTRUCTIONS
CONCLUSIONS
These barrel set features the correct number of liners and tubes to make up a Mk 6 gun, and are an improvement over the original barrels in the Trumpter kits, and are recommended.
This pack of barrels from Master Model #SM-350-16, are priced at $25.95 and are available now.
Master Products are distributed in the US by Georgetown Hobbies and are also available at the following sponsors.
---

© ModelWarships.com