Master Model 1/350 British 2-pdr (40mm/39) Mark VIII (POM-POM) (20 pcs)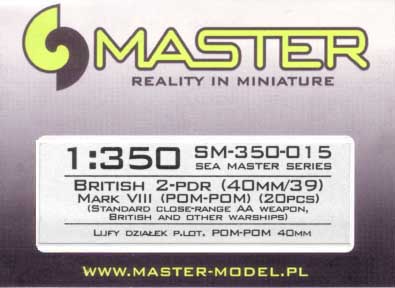 by Sean Hert
The British 2-pdr "Pom-Pom" was distinctive Royal Navy weapon. Utilized as a standard AA gun on most vessels, this gun had single, quad and 8-barrel mounts. Although obsolete by the standards of the 1940's, this Royal Navy continued to produce this gun throughout the war.

Master Model from Poland has released a set of 16 machined brass replacement barrels. The barrels come well packaged with card stiffener in the main bag and a page of printed instructions

INSTRUCTIONS
CONCLUSIONS
It seems Master is approaching the limits of machine technology. This tiny barrels are very impressive, but there are a few in this set that have oval, instead of round, muzzles and some machining marks. And while the barrel length is fine for the shorter pom-poms on the edge of the 8-barrel, it isn't clear how to make these barrels work for the longer ones in the center mounts.
That being said, you still need a good magnifier to even see the muzzles on these barrels! They really are stunning to see in person! I recommend these for any RN vessel with pom-poms.
This set of barrels from Master Model #SM-350-015, are available via Georgetown Hobbies for $16.95, part #MAS350015.
Master Products are distributed in the US by Georgetown Hobbies and are available at the following stores.
---

© ModelWarships.com