Master Model 1/350 British 5.25" (133mm) QF Mark I Barrels (16)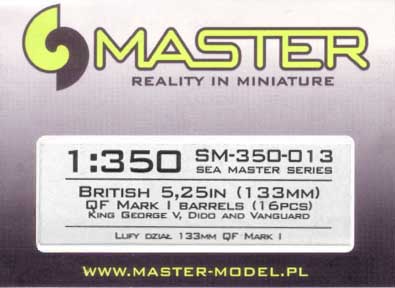 by Sean Hert
The British 5.25" QF DP gun served as the DP secondaries on the KGV class and Vanguard battleships. These guns were also the main battery on the Dido class light cruisers. The mount for these guns is somewhat infamous for its unique appearance and shape.

Master Model from Poland has released a set of 16 machined brass replacement barrels. The barrels come well packaged with card stiffener in the main bag and a page of printed instructions

INSTRUCTIONS
CONCLUSIONS
This set of machined barrels are crisp and fine. There is a slight fillet between the barrel and liner, but shouldn't be too apparent on the model.
This set of barrels from Master Model #SM-350-013, are available via Georgetown Hobbies for $21.95, part #MAS350013.
Master Products are distributed in the US by Georgetown Hobbies and are available at the following stores.
---

© ModelWarships.com