Master Model 1/350 IJN 35.6cm/45 (14in) Vickers 41st Year Type Barrels (10pcs)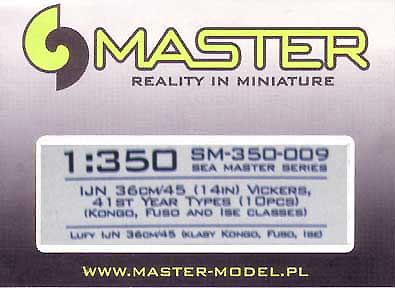 by Jon Somerville
The 14 inch Vickers was designed in England by the Vickers company but were built in both Japan and England. The bore on these guns were exactly 14 inches which works out to 35.56 centimeters.

Ten barrels are included in the set. Mine were not brass but a white metal, like aluminum. These will fit Kongo, Fuso and Ise class. This is of a quality that you come to expect with turned metal barrels. It is important to note that for Fuso, this set won't provide enough barrels as that class had 12. At the time of writing this Fuso has not yet been announced in 1/350 scale. It would be likely that Master Models would release this in a 12 gun set for Fuso in the future.

INSTRUCTIONS

A small single sheet is provided that shows line drawing of the kind of weapon system for which the brass barrels are provided. One nice touch is that it provides the drill bit number best used to make the receiving hole for the barrel.
---
With all the Japanese battleships being released (Fuso class at time of writing has not been announced), this set is very useful and meets the standard that one would expect for after market barrels. Available now, Master Model #SM-350-009 is priced at $26.95.
Master Products are distributed in the US by Georgetown Hobbies and are also available at the following sponsors.
---

© ModelWarships.com