Master Model 1/200 USS Arizona (1941) Secondary and AA Armament Set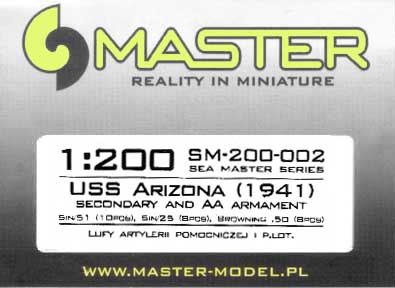 by Sean Hert
September 2012
Late in the year 2010, Trumpeter released a 1/200 USS Arizona BB-39. This impressively large kit came with a set of basic machined aluminum barrels for the main 14" rifles, but Master saw these needed improvement; with their usual skill they have released a set of upgrade barrels for your kit!

This set includes the all the secondary armaments needed for your Arizona:

5"/51 casemate guns (10pcs)
5"/25 AA Guns (8pcs)
.50" Water-Cooled BrownSing Machine Guns (8pcs)

All are machined from brass, and have drilled muzzels- even the .50's!

.50" Brownings MG with water jacket

INSTRUCTIONS

Standard Master Model instruction insert.
---
Master barrels continue to be a hallmark of accuracy and aesthetics for upgrade turned barrels.
This pack of barrels from Master Model #SM-200-002, is priced at $19.95 and is available now.
Modelwarships thanks Master Models for this review sample.
---

© ModelWarships.com