The Lockheed P2V Neptune was the result of the 1943 proposal for a dedicated maritime reconnaissance and patrol aircraft. The Neptune can trace its lineage back through the PV-2 Harpoon, PV-1 Ventura and even back to the venerable Model 10 Electra- famously piloted by Amelia Earhart at the time of her disappearance in 1937. The Neptune first flew in 1945, and entered series production 1946- over 1,000 of these aircraft were built, with seven major variants (and over 30 minor), and flew in 17 nation's service. This airplane gave great service, and a few continue to fly today as a firebomber
This model from L'Arsenal appears to be of the last variant produced by Lockheed, the P2V-7 (P2-H). This variant, with 311 produced, was the culmination of all the growth and design features of the previous variants; bulged cockpit, wingtip fuel tanks, MAD boom tail, bell-mounted search radar, and two J-34 turbojets in pods, one to each wing.
This kit is comprised of 12 resin parts, and a small fret of photoetch. The resin parts are cleanly cast, with little flash. There are 4 landing gear wheels provided, but only two are required.
The parts fit between the fuseloge and wing, and the fuse and the tail, was loose. Some filler may be require to fare in these assemblies.
There is a small fret of photoetched parts for this aircraft. This fret actually has duplicates of all the necesary parts; either these are spares, or L'Arsenal may have originally intended this to be a double kit.
This fret has the complete nose gear, the struts for the main gear, and the four-bladed Hamilton Standard props.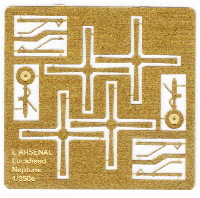 A great companion for a Cold War patrol diorama, or an addition to your tiny aircraft collection. This is another neat little aircraft kit from our friends in Normandy!
Thanks to L'Arsenal USA for providing us with this review sample. This is kit #AC 350-82 P2V Neptune 1/350, priced at $11.00. Available direct from L'Arsenal, L'Arsenal USA or wherever fine ship accessories are sold.