The 5"/25 Caliber Dual Purpose gun mount was the first US secondary gun designed for use against aircraft and surface targets. The gun could be elevated to an extremely high angle to offer protection against dive bombers. These guns were installed on the old Battleships, and the Treaty Cruisers from the mid 20's up to 1940 when the 5"/38 cal became available. These mounts could be distinguished by their shorter barrel and massive breach and by the distinctive fuse setter rack mounted on the left rear of the platform.

Don Preul has is well known for his scratchbuilt ships. Most of the parts on them are scratchbuilt, since many items are not commercially available. Fortunately for 1/96 scale scratch builders Don now offers may of those items he has scratchbuilt through J&D Productions. This gun is one such offering being cast from the the very same masters that have been used on his other projects
.

This gun assembly consists of over thirteen cast metal parts with intricate detailing. The gun base include cast on bolt detail, and the platforms have a raised diamond plate pattern on them. Some parts have a light flash on them that needs a touch of the file to remove but otherwise are extremely well done.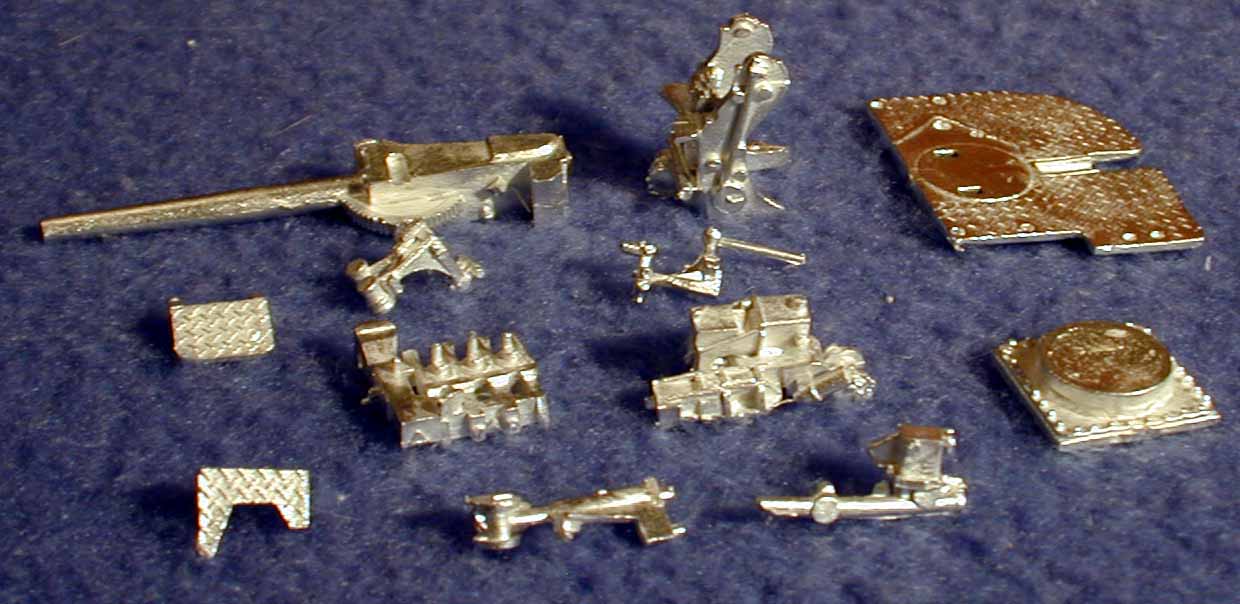 The kit comes with a three page set of insturctions that include a step by step approach to each part. Each part is identified and clearly shown making it very to build.
At first glance I was somewhat intimidated by the contents of the set. As I began to examine the parts and test fit them. I noticed that most of the parts fit together rather nicely, having locator pins and slots. I was intrigued and decided to assemble the kit. Within an hour I had a complete gun mount.
click images to enlarge
The pictures above are of a completed gun somewhat hastily assembled. I did not cement the gun so I could adjust the elevation. I know this is supposed to be an accessory for a complete ship but this would look great sitting an the shelf next to comparable weapons. I find it helpful when modeling in smaller scales to have a nice 3D representation of items like this to better visualize what the smaller components are supposed to look like.
On my last trip to Freedom Park Omaha I took photo's of the 5"/25 cal gun now on display there (click the image above for more photo's). The gun on display is a different mod but shares many of the same parts and should give you even more detailing ideas.

For more information on the 5"/25 cal gun see the Weapons of the World - 5 25 cal section on Warships1.com
Conclusions:

Anyone who has ever scratchbuilt a 1/96 scale ship knows that the amount of time and effort needed to scratchbuilt the eight of these guns typically found on most ships would be a time consuming affair. This kit will greatly reduce the time needed to produce the secondary weapons and allow more time to be devoted to other projects. A file, hobby knife, sandpaper and super glue is all that is needed to complete assembly of this gun assembly.

This is set # JD-08, Priced at $20.00. A great accessory and a nice standalone gun kit. Click the logo to go to the J&D Productions website to see their full line of products and services
---

© ModelWarships.com