The Mk 56 Director was primary post war gun director for the 3" 50 cal automatic gun. Built around a MK35 Radar this director could locate airborne targets in any weather and track them automatically. These directors were common on ships up into the cold war period when more modern tracking systems began to come online.

If you plan on building a 1/96 scale Salem or one of her sisters, you will need four of these. The detail is very impressive, with nut/bolt and hatch detail that will really stand out. The turret and base are cast resin with all the other parts being cast metal. The elevating mechanism is well done and these parts will only need a minimum of cleanup..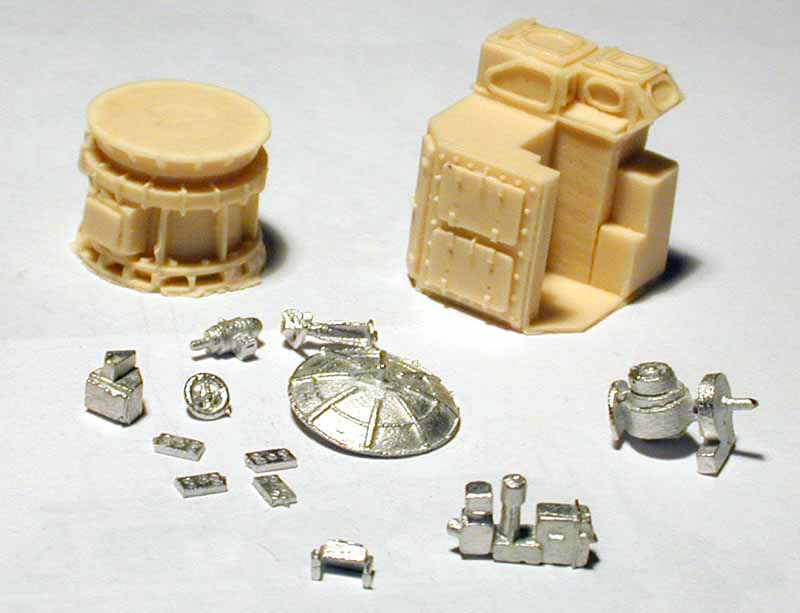 The kit comes with a three page set of instructions that include a step by step approach to each part. Each part is identified and clearly shown making it very to build. The last page includes two prototype shots of a real director, one of which is used as the title art above.
While these parts are very detailed, if a modeler chose to, they could really go overboard and add railing and ladder rungs.
click images to enlarge
I find it helpful when modeling in smaller scales to have a nice 3D representation of items like this to better visualize what the smaller components are supposed to look like. Additional photo's and drawings of this gun mount can be found in Classic Warships Warship Pictorial #8 USS Salem CA-139.
Conclusions:

Anyone who has ever scratchbuilt a 1/96 scale ship knows that the amount of time and effort needed to scratchbuilt this director would be a time consuming affair. This kit will greatly reduce the time needed to produce a large scale ship and allow more time to be devoted to other projects. A file, hobby knife, sandpaper and super glue is all that is needed to complete assembly of this gun assembly.

This is set # JD-03, Priced at $15.00. A great accessory and a nice standalone gun kit. Click the logo to go to the J&D Productions website to see their full line of products and services
---

© ModelWarships.com