Naval Ensigns and Jacks of Modern Europe, the USSR and CIS Republics

A couple of very useful products from Dunagain Decals. These sheets of flags come with all scales (1/192, 1/350, 1/700) included. They are very well printed and in perfect register.
The Europe sheet includes ensigns and jacks for 24 different countries, and 10 flags per country.

The USSR and CIS Republics sheet covers Russia and the USSR in different time frames, the Black Sea Fleet, Azerbaijan, Estonia, Latvia, Ukraine, Kazakhstan, and Lithuania, all also representing different eras.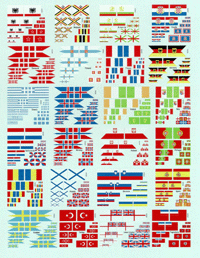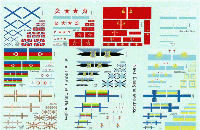 Each flag must be individually cut out and carefully trimmed, as they are printed on a solid sheet of decal paper.

The instruction sheet, as I've come to expect from Dunagain, is excellent. It not only includes hints and tips on how to make them, it also has a section on how and where flags are typically flown on a ship - a very nice touch!.