Royal Navy Steam
Windlass Set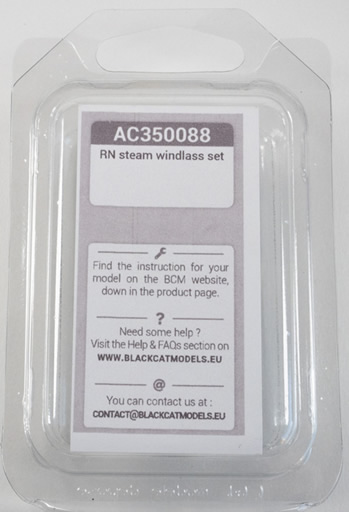 AC350088
Black Cat Models, 1/350 Scale, Printed Resin
Reviewed by Devin Poore, March 2022

The ship's windlass, or winch, provides the power to move about anchors, boats, and anything else heavy that used to rely on sailor muscle power. Black Cat's website describes this set as "five Royal Navy WWII steam windlasses of different types. These deck accessories were found on small Royal Navy units like corvettes, minesweepers, sloops, frigates, etc."

There are five different units in the set, all on the same printing support raft, which is, in the Black Cat tradition, firmly affixed with double-sided tape to the clear plastic clamshell. Detail is extremely fine, with handles, wheels, and other minuscule items cleanly depicted.

While it's pretty clear what's a printing support and what's a detail on these pieces, it's still recommended that you go to the Black Cat website and download the instructions from the page for the windlass set. There aren't any construction steps to follow, but there is a diagram that shows you what to cut and what to leave.
click images
to enlarge
Wonderful little pieces. While listed as Royal Navy versions, I imagine a little modification would allow these to be used on other nation's ships as well. Having five different varieties is a nice touch, and the amount of detail and lack of any required assembly, make these excellent drop-in details for 1/350th scale ships.

Highly Recommended. Thank you to Black Cat Models for the review sample.