Royal Navy 25ft

Motor Cutter (x2)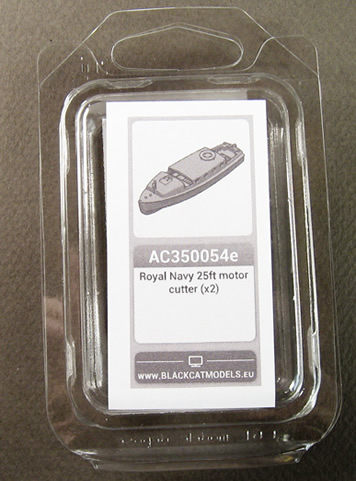 AC350054e
Black Cat Models, 1/350 Scale, Printed Resin
Reviewed by Devin Poore, May 2020

Ships have boats, and WWII ships had lots of boats. Adding to their arsenal of ship detail parts, Black Cat Models has released this set of two 25 foot motor cutters. One-piece, the two boats come attached to their printing raft, stern-to. I removed one for testing, and the supports cut away cleanly, even on the rudder.

These boats have amazing detail, including the aforementioned rudder, a tiller, attached life ring, and other small details. Most impressive is that the interior of the boat, under the cowl/canopy, is completely open with floor and seating detail visible. It's going to be a chore to paint this area, but it's very impressive that it's there.

There are several details and supports that might get confused with these, so go to the Black Cat website and download the instructions from the page for these cutters. There aren't any construction steps to follow, but there is a diagram that shows you what to cut and what to leave.

The full-size boats, if truly 25' overall, would be 21.8mm in 1/350th scale. These to hulls measure out right at 22mm/.88" in length, which is spot-on.
click images
to enlarge