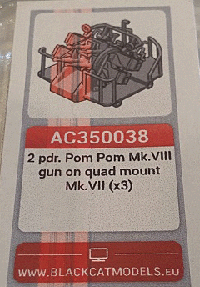 Reviewed by Christopher Martens
July 2020
A new player has arrived on the scale modeling scene. Black Cat Models from France bills themselves as "...specialists of CAD design, we use the best available softwares and printers to produce a complete range of kits and accessories of unequaled precision and quality at the present day."

Click to enlarge images
THE 2 pdr. Pom Pom Mk. VIII gun on quad mount Mk. VII (x3)
The packaging is a plastic clamshell container, with the 3D printed runner containing the Pom Poms, well-secured with double sided tape. The adhesive is strong and parts need to be carefully removed This prevents the runner from moving during shipping. These mounts are astoundlingly detailed and accurate. I compared the mounts to line drawings in "Destroyer Weapons of World War 2" (Hodges & Friedman) and noted no major errors. The rails, sights, and barrels are extremely delicate and will require a careful hand for removal. These, unlike many other aftermarket offerings, contain no photo etch and don't need it.

These guns were often found on lighter British vessels, proving useful on several destroyers, auxiliaries, and potentially some cruisers.
Close ups of some of the parts details.
INSTRUCTIONS
There are no instructions in the box, but the packing directs you to the Black Cat Models website. There, on a data page for the particular item, you will find instructions on how to remove the printed supports that are part of the 3D printing process.
CONCLUSIONS
These 3D printed Pom Poms are absolutely incredible. I'll definitely be using them on my Hunt-class escort when I get around to building it.

This is Black Cat Models set . They retail for about $12.47, and are available directly from Black Cat Models.