20mm Oerlikon Mk.4/0 Gun (x2)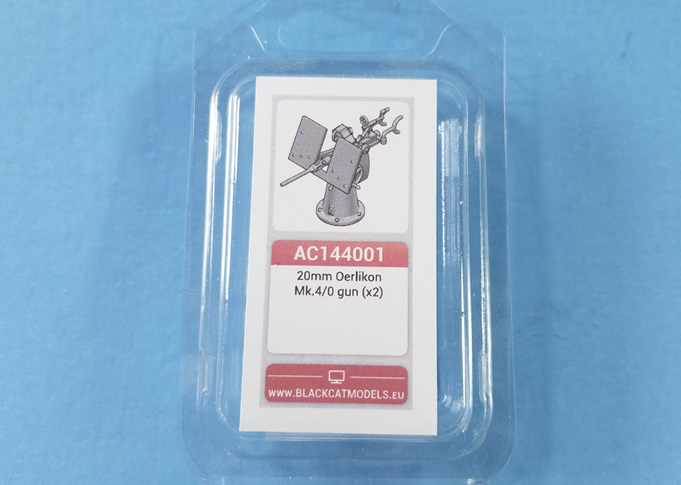 AC144001
Black Cat Models, 1/144 Scale, Resin
Reviewed by Devin Poore, October 2019

With larger scale ships becoming more of an interest in recent years, it's good to see more accessories showing up for them. This set of 2 20mm mounts is an apparent off-shoot of Black Cat's 1/144th scale Coast Guard Cutter, utilizing many of the same parts of the kit's weapons. There are two complete mounts in the set, each made up of 5 pieces: pedestal, gun, elevation wheel, magazine, and cartridge bag.

There are no instructions included in the set, as it comes in a small blister case, but an illustrated primer can be downloaded from the company's website. I've downloaded them and included them here. The diagram is very useful in showing what are the printing supports and need to be removed -- sometimes hard to tell. It also shows a four-view of an assembled mount, which should be good enough to figure out parts placement for assembly.

The components look to be straight out of the 3D printer and show very little in the way of artifacts or print layer lines; the gun shields show very faint layer lines in the photos I've posted, but to the naked eye they're not visible.
click images
to enlarge

The Black Cat 1/44th scale 20mm gun set is a great accessory for someone building 1/144th scale kits that need a little upgrade, or for scratch builders. As usual with Black Cat products, the parts are clean, easily removed from the printing/casting blocks, and should assemble easily. Recommended.

Thank you to Black Cat Models for the review sample.