Warship Pictorial #22 - USS Ticonderoga CV/CVA/CVS-14
ISBN #0-9745687-2-4

This book covers the first of the vessel of the second generation of Essex class aircraft carriers, known as a "Long Hulled Essex". During her post WWII years, the Ticonderoga received the angled flight deck conversion that so many of the Essex class carriers did to accommodate the jet aircraft in a new age of bigger, heavier, and faster naval aircraft. Many other modifications are also covered in this book. Covered within the pages of this book is the entire career history of the "Tico" from her days in WWII, thru the Vietnam War, ending with the Apollo and Skylab recovery missions. Many never before printed photographs were copied from archive sources to produce a visual history of this venerable warship. This "Photo Album" is composed of 72 pages, containing 106 black & white and 16 color photographs with extensive captions, and a brief history of the ship. Retail Price is $15.95 US.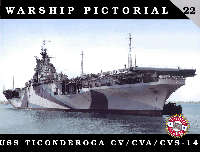 Warship Pictorial #25 - IJN Yamato Class Battleships
ISBN #0-9745687-4-0

The Yamato and the Musashi were the largest battleships ever built by any nation and they carried the largest guns of any warship ever built, yet they both were overwhelmed and sunk by air power. They were built at the height of the Dreadnought era, which also was the dramatic rise of aircraft carrier dominance, eclipsing the mighty battleship as ruler of the seas. So little was known about these leviathans, that the US Naval Intelligence was not aware of their existence until they were spotted in battle in the Pacific War. Details were not available until after the war, but so little visual information was available that we are still learning new data to this day. This book is filled with the majority of the only existing photographs, composed of 64 pages, containing 70 black & white and one colorized photograph, 8 sets of technical illustrations and the front cover painting by the famous naval artist Tom Freeman. Extensive captions and a brief history of these ships rounds out the coverage on these little known battleships. Retail Price is $13.95 US.