Squadron Signal Schnellboot in Action
By T. Garth Connelly and David Krakow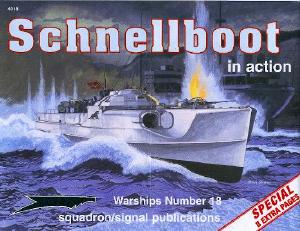 The Squadron Signal line of In Action books has been around for years, covering a vast array of subject matter from aircraft to armor, and ships. The newest addition to the line is Schnellboot in action, co-authored by T. Garth Connelly, the author of PT Boats in Action, and Dave Krakow, creator of the Prinzeugen.com website, dedicated to the technologies and history of the Kriegsmarine. It seems appropriate that a fluent German speaking naval historian, Krakow, and one of the leading authorities on motor torpedo boats, Connelly, would get together on a work of this type.
Schnellboot books have been limited until recently, with the release of the Classic Warships Pictorial book in 2001. S-boats, although active and successful throughout the entire war, have been largely overlooked...until now.
My first impression of the book is quite positive, the layout, although standard Squadron Signal format, appears to have smaller text, allowing for more information to be presented. It provides a solid design history of the type, from its design inception to post war service with other nations.
The graphics are very well done, with drawings by Dave Gebhardt and Darren Glenn, and color plates from long-time Squadron illustrator Don Greer.
The photos are impressive, with many having never been published before. It is apparent that the authors spent time in Europe doing research, based on many of the photo credits given in the book. The authors do a superb job in captioning the images, providing a good blend of technical and historical information to explain the photos.
I've always taken the contents of Squadron books with a grain of salt, as there are many titles with inaccurate information. This particular book is the exception to the rule. It is well written, concise, and the information is supported with photographic evidence.
Modelers and naval enthusiasts alike will find this volume very helpful, and with a suggested retail price of about $13, it's a bargain, especially for the content.
If I have one complaint, (and it's not really a complaint) its that the book needs about 2000 more pages!!! This is simply because once I put it down, I wanted more...hopefully, there's a Volume II in the works. A great book on a great subject, a must-have for anyone interested in these craft.
Schnellboot in Action is available from a variety of sources, including Squadron Signal, White Ensign, Pacific Front, ScaleHobby.com, Trident Hobbies, and most well-stocked hobby shops.
Review by Jeff Herne