ShipCraft 5: Japanese Heavy Cruisers - Myoko & Takao Classes
by Steve Backer

This volume is devoted to the largest, fastest and most powerful heavy
cruisers of their era. With their unusual lines, massive superstructures and heavy
armament, they have proved a popular challenge for modelers, as well as drawing
a large interest in their war history. As with past ShipCraft books, this
will follow the format of half historical and half modeling throughout the volume.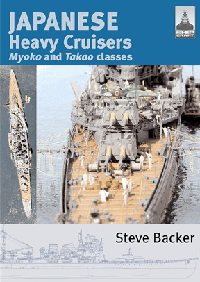 ShipCraft 6: German S-Boats
by Steve Wiper

Operating in coastal waters, the offensive Schnellboot, or S-Boats, called
E-Boats for Enemy Boats, by the Allies, were highly effective craft and were
used in almost all theaters of the Second World War. These combat vessels could
be found in the Baltic Sea, the Mediterranean, the Black Sea and the North
Atlantic coasts, though their main operational area was considered the English
Channel and the North Sea where they attacked coastal shipping during daring
night raids. They were considered one of the best of their type and respected by
all who faced them.