A new Ship Modeling magazine has been launched!
Model Ship Journal Volume One Issue Zero appears to be a great start for a new magazine.

This premier issue includes a great series of photos shot during the early 1980's aboard the USS HOEL (DDG-13). There are plans and historical info for the U.S. Army's 74' ST tug of 1943, complete with underway shots. There is a rather timely photo feature on the USS Wichita CA-45, showing her during her refit at Pugent Sound during 1943. These photo's will prove invaluable to anyone building the new Classic Warships 1/700 kit released last month.

The images of Don Preul's beautiful scale models of U.S. Navy ships from WWII are a welcome addition to the magazine, with images gracing the front and back cover. These 1/192 scale ship models really have to be seen to be appreciated and the pictures included in the magazine are sharp enough to make out even the finest details. Take a look at the back cover to get an idea of the detail this professional modeler puts into his work. So revealing were the photo's of his USS Helena, that I had to break out my xacto knife and make corrections to the way I had built my Classic Warships 1/700 scale version of this ship. There is a great overview of his work in the article titled, "Don Preul's Navy."
MODEL SHIP JOURNAL will be covering ships of all types beginning from the age of power, with articles about steamers, diesel-electric ships, nuclear power and gas turbine propulsion. There will also be articles about warships of all sizes, tugs, freighters, offshore industrial vessels, research ships and Coast Guard cutters. Sail will be covered if the ship is from the transition to steam era. Also look for background information on the architects and engineers that were responsible for the plans that built some of the great ships of the world.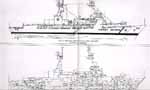 Included in this premier issue are plans for the Coast Guard Cutter USCGC Mellon. Also included is a great article for scratch-building a Flower Class corvette that will be a great project for someone wanting to try their hand at a more advanced type of model building. New products will be reviewed as well as kits already on the market, so don't miss out on a another great source of ship modeling information.
All the images in this article are scanned at a lower resolution than you will find in the magazine, If you want to see how sharp the photo's are you will have to get this issue to see for yourself. For subscription info contact Victor Baca or visit their new website at Model Ship Journal.
PHOTOMARINE ARCHIVES
Model Ship Journal
P.O. Box 28516
Bellingham, Wa 98228-0516
(360) 371-0290 Toll free: (877) 371-0290