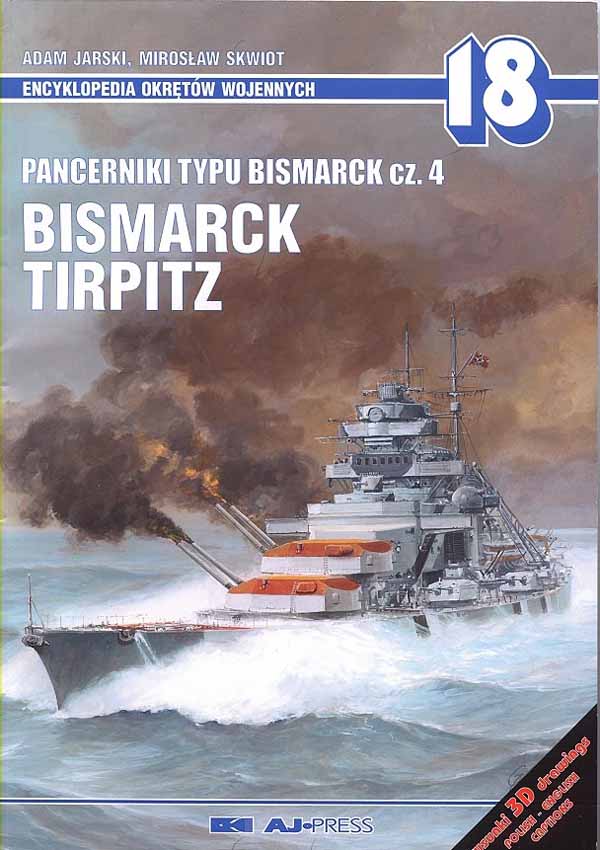 Review by Jeff Herne
Bismarck and Tirpitz were, without a doubt, the most feared ships in the Eastern Hemisphere in the early 1940s. Even after the dramatic loss of her sistership Bismarck in 1941, the mere presence of Tirpitz bottled up Royal Navy assets in the region until her loss in 1944.
AJ Press is a Polish based company that has been releasing ship titles for some time. Early releases were entirely in Polish, and recently, they've started providing English captions to the their photos. The series has been unique in that the vast majority of the photos printed in the books have been previously unpublished.
The 18th book in the series is a compilation of photos based on the construction and fitting out of Bismarck and Tirpitz, and is actually Volume 4 on the sisters. It provides very few photos of ship during their operational careers, rather, the photos tend to lean towards the technical details of these ships.
Unless you read Polish, the text is worthless, although the captions do provide some useful information.
The inside covers feature color artwork of Tirpitz' camouflage patterns, including the rendering of brick buildings on her hull and turrets in an attempt to blend her in with the construction yard. She is also portrayed in the scheme she wore during her workups in the Baltic in 1941, and the splinter pattern she wore between March of 1943 and October of 1944 while at Altafiord.
The line drawings are based on drawings from Sigfried Breyer, and are well done. The highlight of this particular book are the three sheets of double-sided plans that are included, printed on heavy stock and folded.
Sheet one contains a set of drawings done by Breyer of Bismarck (side one) and Tirpitz (side two). Sheet two includes copies of actual builders plans, and sheet three includes some extremely well-rendered 3d drawings of Bismarck and Tirpitz' superstructure.
With a retail of $20, the plans alone are worth the cost if you're building either of these vessels.
AJ Press books are available from Research in Scale, White Ensign Models, and Pacific Front Hobbies.
I'd like to thank Research in Scale for providing this review sample.