Trading Post
Buy, sell or trade your model kits here
Send your wants, trades, or for sale items with desciption, price, full name and email to:
Modelwarships.com takes no responsibility for any problems relating to any transactions that occur as a result of these listings, nor do we charge a fee for this service. All arrangements for payments, shipping, etc., are the responsibility of the parties involved.
All listings will run for 60 days or until sold. It the responsiblity of the parties involved, either the buyer or the seller, to inform modelwarships.com that the listing is no longer current. All listings will be removed after 60 days, you will need to re-submit the listing for an additional 60 day period. If you have an excessive number of kits, twenty or more, we ask that you request an email for a list of kits, instead of pasting them all here. We kindly ask that vendors refrain from posting here.
Model Ship Items for Sale
December 9, 02 (Qty. 50)1/350 Scale PC-461 Subchaser Hulls from the former Accurate Image Models in RESIN - No parts, no brass, just the hull. Superstructure is molded onto the hull, you'll need to scrounge a 3in deck gun, a 40mm single, 20mm guns, life rafts, and rails and DC racks from your photo etched box. Great for kit-bashers and those interested in simple scratchbuilding. These are not 2nd casts, these are overstocked inventory. Quantity discounts given. Also make really good skeet targets, small and unpredictable in flight. $3.00 each US and Canada, plus $1.00 S&H. For shipping to the UK, and Europe, please email: jeff-herne@modelwarships.com
December 10, '02

Heller 1/400 HMS Hood (mint) all parts sealed: $49.00
Airfix 1/600 HMS Suffolk mint/sealed kit: $18.00
Samek 1/700 HMS York resin kit. Some main gun barrels broken: $20.00
WEM 1/700 HMS Brazen FFG mint/unopened: $29.00
WEM 1/700 HMS Brilliant FFG mint/unopened: $29.00
WEM 1/700 HMS Bluebell Corvette 1942 mint/unopened: $19.00
WEM 1/700 HMS Chester CL 1916 bottom of hull sanded: $19.00
Revell/Germany 1/700 HMS Illustrious mint/parts sealed: $9.00
1/1200 Superior Metal Kits Scharnhorst, Suzuya, Hood, KGV, Tirpitz, Lion, all unbuilt and in orig boxes: $24.00

Contact: Mike Morse ecminis@bellsouth.net

December 10, '02
For Sale 1/700 Skywave/PitRoad SWW58 IJN Maya WWII Heavy Cruiser. New unopened $24 plus $4 postage USA. Will consider a trade for 1:700 IJN BB or 1:700 Bismark.

Contact: Rick Schiller rschiller@att.net
1/700 HMS Devonshire Resin kit from Hi-Mold Pitroad. This is brand new. The box is still in pristine condition. All metal,
resin and decals are still inside their sealed bags. Price is $80 plus shipping and insurance from New Jersey. I'm willing to ship internationally. Money orders or cash payments accepted. Thanks!
Contact: Noel Carpio aec-graphics@pacific.net.ph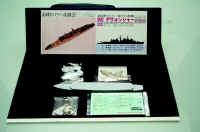 Model Ship Items Wanted


Model Ship Items to TRADE


Non-Ship Models to Buy, Sell or Trade