A visit to Freedom Park
by Timothy Dike

---
Most of us have been to at least one of the many Coastal Ship Museums to visit some of the many Nautical subjects. But what does one do if they live in the landlocked midwest? Well Ship lovers take heart, there is a port of call worth a visit located deep in the heart of the country, I'm speaking about Freedom Park, located on the Missouri river in Omaha, Nebraska. The Battleship's Iowa and Missouri both draw too much water to get anywhere near their namesake states. But you can board the USS Hazard AM-240, a WW2 Minesweeper that served in the Pacific theater. The Hazard was permanently grounded to allow for easier maintenance, not very attractive, but it does give you complete access to the ship. The dual 40 mm guns mounts are fully trainable, and you can inspect the twin 20 mm mounts up close. With the exception of some of the machinery spaces, you have complete access to the ship.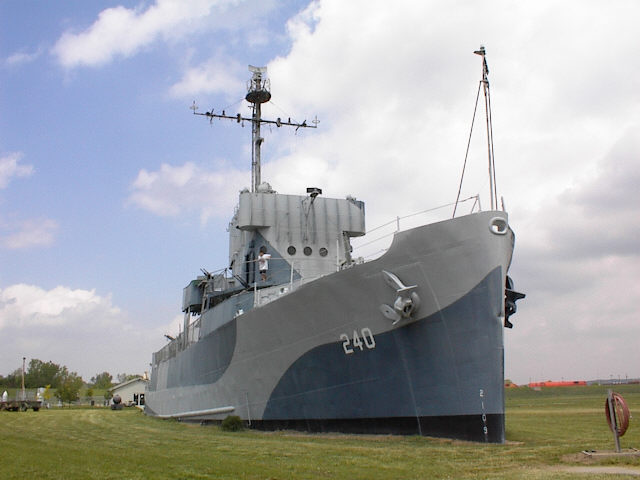 Another treat is the USS Marlin SST-2, not the biggest boat in the fleet, but it does give you an appreciation for the Sailors that went to see on them, talk about claustrophobia. The sub has a door cut into the side of the to allow people to board, a necessary evil, as I can't imagine many visitor crawling down the hatch.
Freedom Park is a National Historic Landmark operated by the Greater Omaha Military Historical Society, a non-profit organization, to gather and exhibit equipment and memorabilia from the pages of naval history from World War II through the present. Displays are constantly being added to and enhanced. Freedom Park is dedicated 'In honor of those who served, in tribute to those who perished, in gratitude to those now serving'. Along with the Ships there are a number of aircraft and weapons mounted around the park, for closer inspection including Shipboard rocket launchers, 1.1 inch Anti-aircraft gun, Captain's gig from missile destroyer USS Towers DDG-9, 30,000 pound anchor from the USS Wasp CV-18 and many others in their Anchor and Propellor Garden, 5 inch 38 Gun Turret, ASROC Missile Launcher, and a Douglas A-4D Skyhawk to name a few. There is also a nice picnic space available for groups to get together. So if you are stuck in the middle of the continent and can't drive to one of the coasts, then plan a trip to Omaha and visit the next best thing.


Click Thumbnails for larger image.

| | | | | |
| --- | --- | --- | --- | --- |
| | | | | |
| | | | | |
| | | | | |
THE LSM-45 WAS REMOVED FROM FREEDOM PARK AND IS NOW LOCATED AT THE MARINE CORPS MUSEUM OF THE CAROLINAS IN NORTH CAROLINA. This Tank landing craft was only recently acquired from Greece and still bears some of that countries markings.
Here is an update on the park from Bill Lee:
The City of Omaha Parks and Rec. Dept now runs the park and we do not charge admission and we have days that we give guided tours of the ship.
The park is open from: May 15 - Sept 15 8 a.m. - 8 p.m. and from Sept 16 - May 14 8 a.m. - 3 p.m.
Guided tours are available Friday-Sunday from 10 am - 3 pm.
Special tours can be arranged by calling 402-444-5955 or emailing. Please call about a week in advance to set up an
appointment for a tour. We have a big page with hundreds of pictures on facebook. Many of these pictures were taken with modelers in mind.


Location Summary
Take Abbott Drive from downtown Omaha to Seward Street (stop light) or the Storz Expressway from the north. Turn east onto Seward where you see the Freedom Park U.S. Naval Museum sign. Then take an immediate left onto Freedom Park Road and follow to the park.





© ModelWarships.com