| | | | |
| --- | --- | --- | --- |
| | FLEET AIR ARM MODEL SHOW AT YEOVILTON BY JIM BAUMANN | | |
The Fleet Air Arm museum was once again host to a remarkable model show--all the more so as it is only a one day event!!!
The show is staged within the museum, around and in some cases under the aviation and shipping exhibits including the testbed Concorde...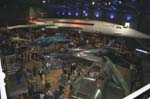 The sheer number of modelships of all sizes and varieties that were exhibited made the trip very worthwhile; the museum in any case is always fascinating for its extensive collection of large scale models-most of which are set in waterline dioramas.
Many of the museums own fine models I photographed and presented in last years show report- here at MW.com--a useful resource for RN modellers of that time period.
Last year being the 25-year anniversary of the Falklands War there were a number of Falkland Navy and aviation themed exhibits in the Museum... and there was a strong Falklands feel to many of the models exhibited.
This year again the show had excellent shipping content--and the models were numerous--with a strong showing of larger scale warships.
This years FAA Show was exceptionally well attended-which must bode well for the future of the show and the hobby as a whole.
Special mention must be made of:
-------------------------------------
Mr Roy Skanes inspirational build of Fairmile D MTB 681 in 1/24 scale
This model was constructed of wood, in virtually an identical manner to the full size vessel.
Even more amazing is that the builder actually sails this model in 1:1 scale water upon occasions....!
The series of photos can hardly do justice to the sheer quality of workmanship-but they may serve to inspire...
Mr Brian Banbury who chose--as his first EVER ship model...--to entirely scratchbuild a full rigged sailing ship...
over a period of two years of painstaking work -i n 1/320 he created HMS Leopard, charmingly set in a waterline scene
Mr Peter White- who at 78 years of age is still building - at a furious pace- fine 1/700 scale models
His enthusiasm and determination are inspirational
MW'er Peter Fulgoney for his supremely innovative scene-setting of DKM Aviso Grille...in 1948...!!
I look forward to meeting some more MW'ers at the FAA show 2009!
Jim Baumann Southampton UK


ModelWarships.com -- -- 2008


© ModelWarships.com